The Bennett Family #1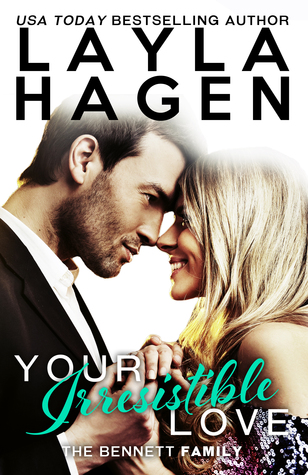 Sebastian Bennett is a determined man. It's the secret behind the business empire he built from scratch. Under his rule, Bennett Enterprises dominates the jewellery industry. Despite being ruthless in his work, family comes first for him, and he'd do anything for his parents and eight siblings—even if they drive him crazy sometimes. . . like when they keep nagging him to get married already.

Sebastian doesn't believe in love, until he brings in external marketing consultant Ava to oversee the next collection launch. She's beautiful, funny, and just as stubborn as he is. Not only is he obsessed with her delicious curves, but he also finds himself willing to do anything to make her smile.
He's determined to have Ava, even if she's completely off limits.

Ava Lindt has one job to do at Bennett Enterprises: make the next collection launch unforgettable. Daydreaming about the hot CEO is definitely not on her to-do list. Neither is doing said CEO. The consultancy she works for has a strict policy—no fraternizing with clients. She won't risk her job. Besides, Ava knows better than to trust men with her heart.

But their sizzling chemistry spirals into a deep connection that takes both of them by surprise. Sebastian blows through her defences one sweet kiss and sinful touch at a time. When Ava's time as a consultant in his company comes to an end, will Sebastian fight for the woman he loves or will he end up losing her?
Your Irresistible Love is book 1 in The Bennett Family Series
Wow what a way to start a series off with a Bang!!! Truly Epic Read
I have read a few book by Layla and loved them all, she is a great author and writes amazing romance
Your Irresistible Love is a HOT, SEXY, ROMANTIC, awesome read and I cant wait to read the other books in this amazing series
I absolutely love the Bennett family and I'm looking forward to getting to know each sibling better when they get there own books :)
In this book I adored how loving and united the Bennetts are as a family, even though they fought and teased each other.. you could just tell how much they truly loved one another and would kill/die for there family members.... It was pretty amazing and special to see the bond they all have
Ok so... Your Irresistible Love is Sebastian's book.. he is the eldest of the Bennett boys, so he is naturally really alpha, take charge and feels like he should take care of his family, which makes him a very good business owner and CEO... of a very wealthy and successful jewellery company
Seb was raised with very little money, which made him work very hard to become the wealthy man he now is.. but he never forgets where he came from and having a huge bank balance hasn't changed him, he refuses to let money define him....
So when his fame and fortune started to grow, he found he got a lot more interest from women... being the lovely guy he is, it took him a while to realise they were only after him for his money and because of his social status...
So he hasn't had much luck with women recently
From then on he vowed to never get involved with another woman.... until he meets the sexy, sassy Ava
Ava works for a huge PR firm and is hired by Seb to promote a new jewellery launch...
When they meet for the first time there are instant sparks
and a seriously sizzling sexual chemistry between them
But Ava makes it clear from the beginning that no matter how much she is attracted the sexy Seb, she can not act on it as its against the rules of her company policy... it states that she cannot date/sleep with any client what so ever
Ava has been working her ass off to get this far in her career and refuses to risk losing it all for a man
The more time Seb spends with Ava, the more he finds that she is so unlike other women he has come across... Seb decides he wants Ava and not just for one night... he wants her for keeps
Seb is now on a mission to win over Ava before the job contract ends and she moves back to her home state... time is running out
Ava and Sebastian were made for each other whether she sees it or not
Your Irresistible Love is HOT, HOT, HOT
I loved this book, it had me constantly on the edge of my seat thinking where it would lead next
We get hot as hell sex, many lol moments with The Bennetts (hilarious).. I devoured every page
Now I honestly really cant wait for book 2.. which I believe is Logan's book (Seb's Brother).. Logan is funny as hell and a total playboy... I'm sure it will be a great read
Well Done Layla... You really smashed it out of the park with this one <3
but I need Logan's book NOW!!!! (haha I'm impatient, can you tell)
A Irresistible Must Read xx