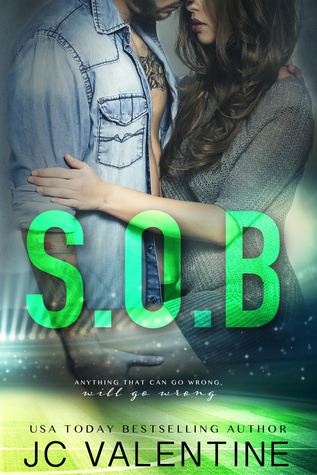 Levi Black is an s.o.b.

Born with a silver spoon in his mouth, he's a pretentious, obnoxious, womanizing jacka** who thinks the world revolves around him.

He wouldn't be wrong.

A famous soccer player, his skills on and off the field have won him medals, trophies, women, and the cover of every heartthrob magazine in the country. He's broken nearly every bone in his body and a few hearts along the way, including mine—his stepsister—and lived to tell about it.

One night changed everything, and I've avoided him like the plague ever since. Just long enough to finish college, to bury the hurt, and to outrun the memories. But now that's all changed. I'm back, and there's no more running.

My hands are supposed to be my livelihood, but now they're my curse. Levi's reckless ways have landed him in a sticky situation, and his father has given me an offer I can't refuse. One month, and all I have to do is put my hands on his body. Easier said than done. The problem is, even though I know it's bound to bite me in the a**, I can't bring myself to say no to the s.o.b.
WOW... JC has done it again :)
Another amazing book from this very talented lady <3
I love JC Valentine, her plots and story's are awesome, he writing is just flawless...
S.O.B is a step-brother book. I know there are a lot of them around at the minute but S.O.B is in a league of its own ....
I loved Levi... he is a world famous soccer star/playboy...
Vista is a woman that works hard and is solely focused on her career as a physical therapist, she is wanting to start her own business... and is also Levi's step-sister
.
They had a sort of fling/love affair 4 years ago and Levi had broken Vista's heart when he broke it off with her..
Now 4 years later Levi's dad has a once in a lifetime opportunity for Vista...
if she follows he will help her start up her own company and the funding..
Levi has hurt his leg and is in recovery...
Vista is to be Levi's live in physical therapist for 30 days .... easy right???
But living with the man she has loved for years, that broke her heart, is going to be one tough challenge...
I love Levi, he is funny as hell but also battling some demons...
you can clearly see the love he has for Vista ...
He can be a huge JERK (most of the time) .. but I just couldn't hate him ,,,he is to loveable, sexy and real smooth
I devoured S.O.B. it has a great plot, its unlike any other step-brother book around and it has plenty of suspense that keeps you guessing
Its a book I will definitely re-read
I need to get this in paperback, as i love the cover... it would look amazing on my shelf with my other JC books
AMAZING TABOO READ .....xoxo faye
LINKS