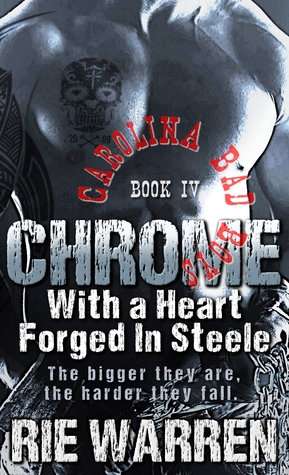 Boomer Steele is big. He's bad. He's the Retribution MC pres. He's been dealt the worst hand imaginable and bears the scars inside and out. Not that anyone knows it. He's watched his younger brother and sister hook up and hitch up with the loves of their lives, and now he's the last Steele standing alone. Maybe he should keep it that way.

Then one feisty honey makes him feel, gets in his grill, pisses him off.

She goes by the name of Rayce. And that's exactly what she does on her motocross bike when she's not busy getting her hands dirty with her fellow grease monkeys as the only female mechanic at Stone's Garage. She's into fixing bikes, racing hers, and making Boomer's life a living hell just for the fun of it. Oh, and she hates being treated like a girl.

Sparks flying? That's an understatement where these two are concerned. Yet when Rayce needs a place to live, and Boomer offers her a room in his house, their unquenchable attraction wins out over antagonism. Sometimes. Rayce's crappy upbringing makes her think love is for stupid fools asking for heartbreak. She's not willing to go there for any man. Not even Boomer Steele.

The bigger they are, the harder they fall.
Note to readers: this book addresses the issue of domestic abuse
My Review
This is the first book in the series and from this author I have read,, so it can be read as a standalone.. but is best read as a series in order..
Chrome is Boomers story,, he is the President of the Retribution MC Club.. he is a total badass and sexy as hell.. he has his pick of women and only ever uses them for sex .. But underneath the badass he has a huge heart and would kill for those he loves..
Rayce is the heroine of the book, she is real sassy and takes no crap from anyone.. she also works at the local Garage and that's where she meets Boomer..
The moment they meet there is a instant attraction,, they start of as friends but eventually the chemistry becomes to much to ignore..
They both have troubled pasts that they must deal with in order to move on and be together...
I loved everything about this book there was nothing negative I could say about it..
It may now be my favourite MC book ....
I love Boomer, he is sexy as hell. The book is in his P.O.V which is awesome as we get to know what he's thinking and feeling..
I cant wait to go back and read the other books in the series...
Great Book, Beautifully Written, I will definitely read more from this Author ...xoxo faye