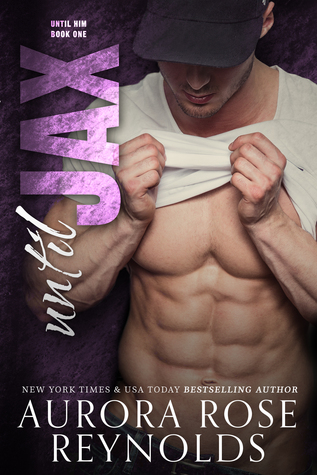 Ellie Anthony isn't looking for love. She isn't even looking for a man, but when Jax Mayson insists on keeping her and her daughter safe, she's left with no choice but to trust him. Now she just hopes she doesn't get hurt when she falls hard for a guy who's known for breaking hearts.

Jax Mayson knows that Ellie is his BOOM the moment he sees her. When he finds out she has a daughter, he realizes he wants a family, and he will do whatever is necessary to keep both of his girls safe, even if that means facing the demons from his past.
MY REVIEW
I LOVE THE #BOOM
I love Aurora she is my fave author...
Until Jax is book 1 in the Until Him series its a spin off from the Until series.. there are two spin off series from Aurora Until Him and Until Her,, where we meet the Children of the Couples we met in the original Until series...
In the original Until series we meet the sexy Mayson brothers,, they have a family legend called the Boom!!! .. When they meet the "ONE", the girl they will fall madly in love with and spend forever with they know instantly..
they all thought their farther was making up story's and that the boom was just a tale,,, until each brother starts finding their "Boom".
We first meet Jax when he is a little boy in Until Lily, that book is about Cash and Lily Jax's dad and stepmam..
Until Jax starts exactly where Until July (book 1 in the Until Her series) finished.. you can read Jax as a standalone but to understand every detail of the book I recommend it best to read Until July first ..
Jax meets Ellie in Until July after he rescues her and July after they are kidnapped.. as soon as he sets eyes on her he is attracted to her and has really strong feelings for her instantly,,, he is starting to believe that the Boom is real and not just a tale..
Jax is definitely a Mayson boy he is sexy, protective, bossy, alpha, he loves and protects those fiercely and with everything he has. like all the Mayson men he would kill for his family, he loves Ellie and Hope and would die to keep them safe and protected..
Ellie is a real sweat heart, she adopted her neice Hope when her brother and his wife die in a tragic accident when Hope is just a baby,, she has no family to rely on, so she work really hard to support Hope and give her a good life that she deserves, Ellie has had a awful life she lost her loving brother and her mam is a evil woman, so when Jax and his family show Ellie love she is so overwhelmed because she just isn't used to anyone loving her. Ellie is a awesome mam to Hope and she is just a all round lovely girl.
Jax lets Ellie and Hope move in with him so she can start afresh and build herself a new life away from her mam and the danger that waits for her back home..
They have an attraction to each other from the start and Jax is persistent in his pursuit to win Ellie over, the longer they are together to harder her falls for Ellie and Hope. Ellie is slowly warming up to Jax and allowing herself to be loved by the wonderful Mayson family but is taking time to get used to his alpha, bossy ways.
I loved how Jax is with Hope, it was total swoon worthy, he takes her in with Ellie and loved her as his own daughter, Jax is a real badass but can be adorable and sweet,, Hope has him wrapped around her little finger.. its sooo cute and would do everything and anything for her...
Their journey to forever is full of sexual tension, lots of twists and turns, a really gripping story.. I was hooked from page one.. Until Jax was another exceptional read by the very talented Aurora ..
I am a HUGE fan of the #BOOM... I love the insta love that happens in these books....
When the Mayson men go in their all in ...
I cant wait to read more from the Until Her and Until Him series ..... OH ITS GOING TO BE ANOTHER AMAZING SERIES..
Up next we have Until June (book 2 in the Until Her series)
Yet another explosive read by my all time fave author....... xoxo faye
Purchase Links
AMAZON
GOOD READS