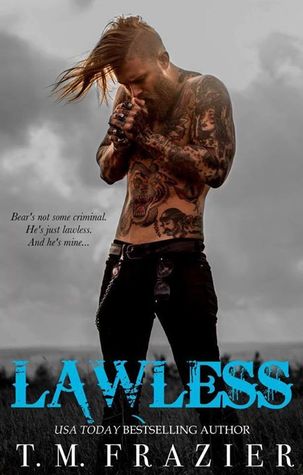 Thia is prim and proper.
Bear is leather and lawless.
It will never work between them.
It's a lie they almost believe...

It is necessary to first read King and Tyrant to fully enjoy Lawless.
My Review
Up until recently I hadn't read any of TM Frazier's books... until the girls at Four Brits Book Fest highly recommended I read King (book1)
Everyone was talking about how amazing King was so I just had to read it to see what all the fuss was about.... and WOW what a book
if you haven't read King yet... read it now, your so missing out
Lawless is Bears book, we first meet him in book1 as he is one of King's best friends
Lawless can be read without reading King and Tyrant but I HIGHLY recommend you read them first :)
When I found out that Bear was getting his own book I could not wait to read it ...
In Lawless we get to know the mysterious Bear
In King and Tyrant we only get small parts of Bear, so reading Lawless we get to know how he thinks and we get to know the beautifully damaged Bear
Bear goes through so much in Lawless.. I really felt for him
he is a member of The Beach Bastards MC, which his father happens to be the president of...
But after going through some really terrible stuff, Bear is lost and broken... so he leaves the MC and hides himself away from the people that love him
Poor Bear... I just wanted to hug him and make everything ok, he had some really awful stuff happen to him :( and is just giving up on life and is just existing ... not living
In Lawless we also meet Thia
Thia met Bear many years ago when she was just a little girl... and Bear was the sexy Biker
They meet for a few minutes... and in the short time Bear makes a silly promise to the little girl... he just says it not really meaning it, as he will never see Thia again..
Years later Thia has lost everyone she ever loved... and is some serious trouble
With no one to turn to... Thia sets off to find the sexy Biker that made her a promise
.... its time for Bear to fulfil his promise to the now grown, sexy and not so little girl he met many moons ago
I was constantly on the edge of my seat...
It was so so worth having a huge cliff hanger ending.. but Darn that Cliff-Hanger !!!!
It was gripping, exciting, emotional... it was everything and more
I also loved that fact we get little parts of King and Doe <3
TM Frazier's books are in another league, she is a very, very talented lady... and has a truly special gift as her writing is out of this world
From now on I would honestly read everything this lady writes... even her shopping lists (haha) I bet they are even epic..
I can only give this book 5*... but honestly there is no number high enough to rate this book... its honestly that good
But I need Soulless (book2) NOW !!! I NEED MORE BEAR :)
LINKS