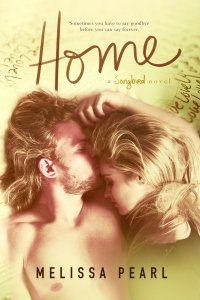 Rachel Myers never meant to stay in Payton. Her eyes were set on bigger things than waitressing at Clark's Bar. She wants to perform on a stage of her own with bright lights, fame, and fortune. But something got in the way—Joshua Clark. He's a good man who loves her, a solid rock she can depend on. She wants that to be enough, but it hasn't quelled her yearning for the big city.

Josh knows Rachel wants more out of life and might leave one day. Yet so far, she hasn't gone anywhere. Deep down, he believes his love is enough to keep her…or at least he hopes so. Until one night, a city boy from Hollywood promises Rachel a record deal and destroys everything.

Jumping at a chance she never thought she'd have, Rachel leaves Payton. And Josh. But the sparkle of Los Angeles is not all it's cracked up to be, and Rachel quickly figures out that some sacrifices are not worth the risk. Is she too late? Will Josh forgive her, or has her desire for fame ruined the best thing she's ever had?

Sometimes you have to say goodbye before you can say forever
Home is book 4 in the Songbird series by the awesome Melissa Pearl
This is the first book I've read by Melissa but I've heard amazing things about her and her book's ...
Each book in the series can be read as standalones but are obviously best read as a series...
Home... is a story of one girls journey to follow her dreams to become a famous musician ... it's everything she's ever wanted and dreamed of...
She is offered a once in a lifetime shot to make it big..... but in doing so she must leave behind everything she's ever known .... including the love of her life...
She has a huge decision to make ....
I really enjoyed Home, I LOVED Josh ... he didn't hold Rachel back from her dreams even if doing so meant she would be leaving him behind with a broken heart...
But he knew its what she always wanted ... He kind of sets her free
I liked Rachel and can understand her wanting to take this chance of a lifetime... but did she really have to give up Josh ??? could she not have his also
So yeah at times I just wanted to smack her and give her a shake...
Home was a really great read ... I was constantly guessing what was going to happen next and how everything would turn out
It was a nice easy read with plenty to keep your attention...
I cant wait to read the other books by Melissa
4.5* Read ..... xoxo faye