Forbidden Temptations (Tempted Series Book 2)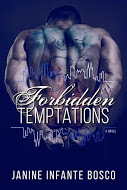 Anthony Bianci

Since I was a kid all I ever wanted to be was a gangster. I wanted to be feared, to be respected, and for everyone to know my name.
And then she came into my life.
I never planned on falling in love with the mob boss' daughter. She was forbidden but somehow she became mine. She made me crave things I didn't even know existed and made me forget about the things I thought I wanted. My quest for power faded away and was replaced by my undying love for her.
Until reality bit me in the ass and I was sent to prison for three years, doing time for a crime I didn't commit.
Now I'm out and she is creating a life for herself, just like I always wanted for her. Only I'm not a part of that life. I won't ruin her any more than I already have with my poisonous lifestyle.
No matter how tempted I am.

Adrianna Pastore
I wanted him from the very first time I laid eyes on him.
He was everything to me, my first love and probably my last.
Then my father ruined our perfect little life, and he walked away from me.
I tried to fight for him, for our love, but he pushed me away.
When the love you crave is beautiful, yet forbidden, you can't help being tempted.
So I'll fight for him. For us.
Even if I'm the only one fighting.
Fave Quote/Part - This part takes place when Adrianna tries to throw a punch at Anthony - " I squinted trying to think what the fuck I could've possible done to her yesterday that earned me a visit from Mohamed Ali " - Ha ha ha I laughed so much at this part my stomach cramped from laughing so much...
This is the first book I've read by Janine, but now after reading this book I will read every single book this author now releases...
I don't know where to start with this review.. there are no words to describe how amazing this book was... I can honestly say that this is the best mafia romance book I've ever read, and I don't think I will ever read a book in the future that could measure up to Forbidden Temptations...
Forbidden Temptations can be read as a standalone but is best read as a series ...
Going into F.T I thought it was going to be your typical mafia romance novel .. which Im not that fond of... but from page 1 I could just tell it was going to be so much more... and I was right. It was in a league of it's own
I don't want to go into the plot... read the synopsis
But I loved Adrianne and Anthony, I felt a really strong connection with them,, I just loved them as a couple, they were so perfect for each other and I was rooting for them right from the beginning ...
Forbidden Temptations has so much going on and has many twist and turns...
I was on the edge of my seat constantly as it was full of suspense...
The story and plot were gripping, believable and it was one of the most original stories I've read in a long time...
The character's - I could feel every emotion right along with them, it felt like they were real people that I knew... Adrianna and Anthony are my fave couple...
The writing was seamless...
There was nothing I didn't like about Forbidden Temptations... it was flawless
I cant recommend this book enough
Amazing is all I can say...
WOW Janine you are a very talented author and you should be so proud of this book...
I devoured it in one sitting.. Flawless.....xoxo faye