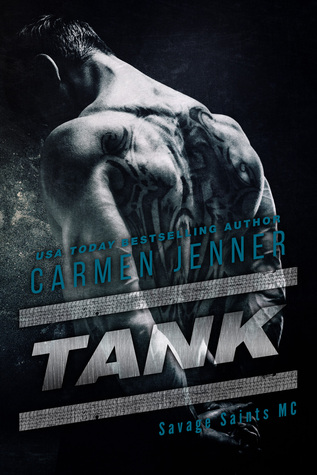 Killer. Criminal. Sociopath.
All of these words have been used to describe me, and for the longest time I believed that that's all I was.
I'm the man you call in to clean up your mess, assuming your mess is a guy who needs a bullet to the head. I'm the man the MC calls when they want their dirty work done.
I'm the man who doesn't feel.
Until now.
Until her.
Now my mess is a woman who won't save herself. I'll fight like hell to save her, but at what price to the club? And at what cost to me?
Warning: TANK contains graphic violence, profanity, drug use, and explicit sexual situations that may be a trigger and cause some readers emotional discomfort. Intended for an 18+ audience only. Not intended for pussies.
My Review
*
I read this book as a standalone but I think for the best read, you should read book 1 first (Kick) before hand *
WOW - I just love Carmen, she sure can write a Dark, Gritty, on the edge of your seat book full of Suspense and a emotional read.
I don't usually like dark reads but this has blown my mind ... what a read !!!
TANK- he is part of the Savage Saints MC, his role at the MC club is to kill.. he has his own demons from his childhood, but even though he was a evil character I loved him, as you could see underneath the tough guy exterior he loves deeply and cherishes the people close to him.
IVY- she has had a heart-breaking nightmare of a childhood and is now on the run from her demons but she isn't living she is just existing.. and her life is now no better than it was.
I really feel for and she is such a great character but at times I was really annoyed with her and just wanted to shake her and tell her to wake up and start living!!!
Tank takes Ivy from the MC club where she was living as a club whore and take her to his home, to try and help her overcome her demons and start getting her life back together..
The road forever is a long bumpy ride full of demons and emotional set backs.
Overall - I really enjoyed reading Tank ands will defo now have to read Kick (book 1)
if you love a dark read this book will not disappoint, its an edge of your seat, rollercoaster of emotions... an EPIC read. 5* MUST READ
P.S. I love Carmen Jenner she is the queen of emotional dark reads,,, very talented author ..... faye xoxo
LINKS
Amazon.com
Amazon.uk
Good Reads